Learning The Basic Language Of Music On The Guitar
Seeing the Building Blocks of Music all over the fretboard
Produced by Paul Meyers
Product Description
In this course the you will learn the Basic Building Blocks of music on the guitar.
What can this product offer me?
No matter what kind of music you want to play, this is a series of projects you can use to help you progress quickly and in a much deeper way.
You will learn exactly how to make basic musical structures – major, minor and 7th chord sounds – and then how to easily find and build them all over the neck.
This will open up enormous possibilities for your comping, soloing, arranging and composing for you to explore
You will learn Basic tools that will last you for a lifetime of guitar playing!
Who is this for?
For beginners or for ANYONE at ANY level or age who wants to learn exactly HOW music is constructed on the guitar.
Lecture list
Lecture series 1: Playing the musical alphabet and building major sounds

11:07
Lecture 1
2:20
Learning the seven letter alphabet of music on one string, so you can clearly see each note and the steps between them.
Lecture 2
2:42
Now learning these ABCs going from one string to the next, you will see how you can connect many notes right under your hand on all six strings.
Lecture 3
2:25
Using the musical alphabet you will build a major scale, and then think about the scale using just 7 numbers. By doing this and "seeing" the notes this way, you will have the first very important tool to use for creating music.
Lecture 4
1:52
With the C major scale, you will take the first, 3rd and 5th notes to build a major chord. When you spell it one note at a time you are playing the "arpeggio" of the chord. These three things, scales. chords and arpeggios, are the basic building blocks of music.
Lecture 5
1:47

So you see you've already learned a lot. Here we will review everything that you learned so far, and also talk about how you always want to connect three very important things:
EAR – the sound of the notes –
HAND – where your fingers play the notes –
BRAIN – what you use to name the notes and see how they are related to each other

Lecture series 2: Major pentatonic scales and the 5 "playgrounds"

14:09
Lecture 6
2:32
Building the 5 note C major pentatonic ( 1-2-3-5-6 ) scale, and finding a very familiar melody in it right away.
Lecture 7
3:06
Here you will see how to build a major pentatonic scale two ways ( up or down ), as you go across the neck from the root on the 5th string, again using this familiar melody.
Lecture 8
2:30
Now you will learn how to build the same major pentatonic scale starting from the 6th string instead of the 5th. Again, you can build from there in 2 directions, up and down ( "north" and "south" ). This is very important as you now see how the same sounds can be played in different areas ( different playgrounds ) of the guitar neck.
Lecture 9
1:51
Building the biggest playgrounds of them all, traveling 2 entire octaves across and back, going either "north or south".
Lecture 10
1:59
Now seeing the two pentatonic scales all the way across the neck from the 5th string. With these four "playgrounds" you can cover almost the whole neck in the key of C
Lecture 11
2:08
By adding the last playground you have a way of covering the whole neck in the key of C – and with this tool you can do the same in any key!!

Lecture series 3: Building minor sounds

12:28
Lecture 12
1:47
Seeing the important difference between major and minor sounds, which is the 3rd of the chord. You will turn a basic C major chord into minor by lowering the 3rd by one half step.
Lecture 13
2:44
Going back to the ABCs on the A string, you will clearly see the notes that create the A minor sound, whether in a chord, scale or arpeggio. Next you will change all these A minor sounds back to major ones. This way you see the important difference between major and minor in 2 keys.
Lecture 14
2:10
Here you will build a C major scale on just one string, so that you can see the exact building blocks of the scale (the whole steps and half steps) in order. This is very important as the major scale ( 1-2-3-4-5-6-7 ) is the reference point we use for everything else!
Lecture 15
3:45
Using those exact building blocks you can now build a major scale on the A string, and then you will see how to lower 3 of those notes to change it to an A "natural" minor scale, and you'll see exactly which notes they are. Plus, by using the numbers you now have a name for each exact sound!
Lecture 16
2:00
You have now really looked at and learned the difference between major and minor. And you have learned how to exactly create these sounds by connecting your EAR ( sound ), HAND ( fingers on the guitar ), and BRAIN ( seeing and naming the building blocks of the sounds ).

Lecture series 4: Minor pentatonic scales – and a little "Blues"…

11:26
Lecture 17
2:16
First you will hear the sound of the scale, which is related to blues – then using the numbers you will see how it is built. ( 1-2-b3-5-b7 ). Next you can learn to play it all the way across the neck in first position. This is the first of the 5 minor playgrounds.
Lecture 18
2:16
Now you build the minor pentatonic scales the same way you did for the major ones, going "north and south" from the different roots. So you will see how to cover the whole neck in a minor key just the way you did in major.
Lecture 19
1:53
You'll see how you could play a melody – in this example, Summertime – in all 5 playgrounds. By now you start to really see how you have unlocked the key to understanding how music on the guitar works.
Lecture 20
2:29
You will learn a simple C7 chord that you can use to create a Blues feeling. Then you can see a demonstration using a C minor pentatonic scale to begin improvising in a "blues" feeling around that chord and a simple rhythm. You will see that you can use this scale as your main notes and then use your ear and imagination to explore other sounds around them.
Lecture 21
2:30
A quick review of the this lesson is here and a demonstration of the entire Summertime melody in one "playground", with a few chords added. You are now ready to begin using the playgrounds to find melodies yourself (start simple!) and explore the guitar in that way. This a great thing to get you connected to music and the guitar in a deeper way! Remember to always connect the EAR, HAND and BRAIN! We will begin looking more closely at chords in the next lesson.

Lecture series 5: Building 3 kinds of chords five ways

14:54
Lecture 22
3:06
You will learn the 5 "open" position chords and see how they are fingered. This is also known as the CAGED system. These are very important shapes to get your hand used to.
Lecture 23
3:06
Learning how to change the E, A and D chords from major to minor, by lowering the 3rd a half step, and seeing the problem of changing the C and G chords to minor.
Lecture 24
3:18
Here you will learn different shapes that work for the C and G minor chords. These shapes introduce the technique of "barring" across the neck with the first finger. This is a very important tool that opens up all kinds of chords, all over the neck! With just a little patience and time you will get the strength and flexibility in the first finger to use it this way.
Lecture 25
2:36
You will now see how to add a flat 7 to each of the CAGED chords to create this very important type of chord. With this you have learned and can begin playing the three basic and most important type of chord "sounds" – major, minor and 7th, – and you can play all of them 5 different ways!
Lecture 26
2:36


Here you will learn a great "cycle" to practice which will take you through all of these chords. Beginning with E minor (Em), you change it to E major (E), then change that to E7th (E7). This will lead you to A minor, and from there you will do the same as you did with the E chords – change it to a major and then a 7th… And so on through all five. At the end you will be on C7, and then learn how to lower that shape to B7, which will bring you back to E minor — so you can start again at the beginning!

NOTE: It is very important to get your fingers used to moving from one chord to another smoothly and clearly, and it takes time for the fingers to do it well because you are moving several fingers at once ( This is why we start with scales first! ). But it's also a lot of fun to make and hear these chords and as you keep practicing patiently it will all come!


Lecture series 6: Seeing how 7th chords connect

13:48
Lecture 27
1:17
Here you'll get an introduction to exactly how 7th chords lead you from one chord to the next, by creating "tension" that "resolves" on the next chord. First you'll hear this by listening carefully to the top two notes of G7 leading into the top two notes of C major.
Lecture 28
2:43
Now you will closely look at these 2 top notes of G7, seeing exactly which parts of the chord they are and how they connect into the next chord. You will also learn about this special "interval" ( the tritone or diminished fifth ), and how this dissonant sound chord leads into the consonant notes of the next chord. The V ( "five" ) chord in the key of C is G7 ( yes, it's really a V7 chord, but we can just call it the V chord for short! ). This tritone is what gives the V chord it's unique quality in any key, major or minor.
Lecture 29
2:13
Now look at the V chord in the key of A, which is E7. You will build it with just the essential notes ( Root, 3rd and b7 ) and see clearly how it works in both minor and major keys. Remember that it is the tritone sound between the 3rd and b7th of the V chord that gives it this special quality.
Lecture 30
2:18
Here we will start to look at using the V chord in the A minor pentatonic playground. in order to do this you first have to find just the A minor triad notes ( 1, b3, 5 ) in that area. This arpeggio gives you the exact outline, or "main" notes, of the A minor sound.
Lecture 31
3:15
Now you will see how to build the E7 arpeggio from the E major pentatonic scale, in the same area of the neck. This is where the practice you've already done connecting EAR, HAND and BRAIN will help you! Then you will see examples of how you can start to connect the two sounds in a musical way, using the E7 and A minor arpeggios.
Lecture 32
1:58
Congratulations! You've learned a lot — ( pat yourself on the back! ) – The ABCs, the scales, the chords, arpeggios, and playgrounds, these all give you the tools to understand, work on and explore music on the guitar – and especially to help you build your own music for a long time to come!
Instructor Biography

Paul Meyers
, Multi Award Jazz Guitarist, Masters of Music in Jazz Guitar, Jazz Guitar Professor
Paul Meyers has gained a reputation as one of the top jazz guitarists of our time. With an original technique on the classical guitar he has combined a deep understanding of the jazz tradition with strong influences of Brazilian, Latin and classical music to create a truly unique sound and concept.
Paul has performed and recorded with an ever growing list of jazz greats – Geri Allen, Karrin Allyson, Kenny Barron, Bruce Barth, Ron Carter, Eliane Elias, Eddie Gomez, Jovino Santos Neto, Rufus Reid, Claudio Roditi, Annie Ross and David Sanchez to name a few. He's also toured worldwide for many years with two of the greatest jazz singers ever – Jon Hendricks (since 1993) and Andy Bey (from 1997 to 2008). Paul performed in Argentina and the US with vibraphonist Gary Burton, who recorded Paul's tune Panama on his "Reunion" CD with Pat Metheny.
Critically acclaimed CDs: – two new releases are World on a String, a quintet with rising stars Donny McCaslin and Helio Alves, featuring Paul's original compositions and arrangements, and Paul Meyers Quartet featuring Frank Wess, a relaxed straight ahead session with the tenor and flute master. These follow two solo guitar CDs, Blues for the Millennium, with his unique arrangements of jazz and Brazilian tunes, four original pieces and his own transcriptions of 7 of Bela Bartok's "Mikrokosmos", and Dusk to Dawn, a collection of original arrangements of Ellington, Gershwin, Lennon/McCartney, Scott Joplin and more.
Others include Brasil & Company, an all Brazilian CD with the great vocalist Vera Mara, and Euforia, an envelope pushing Latin Jazz trio with great Panamanian bassist/composer Santi Debriano and Brazilian drummer Vanderlei Pereira. Paul and Santi also reunited for a duo CD, Spirit and Samba. Earlier recordings include the unigue cello, bass and guitar ensemble Trio Concertant, first runner-up for best chamber music CD of 1992, and a jazz trio album, Blues for Henry Miller.
As a sideman: Paul has contributed to many CDs, notably three with Andy Bey – the Grammy nominated American Song, Tuesdays in Chinatown and Shades of Bey. He toured with the great Argentinian pianist/composer Pablo Zeigler, who featured Paul along with Stephon Harris on the live CD Tango meets Jazz. Others include Hearts and Minds with Susannah McCorkle, 4 on 6 x 5 with the New York Jazz Guitar Ensemble and three Latin/Brazilian jazz recordings featuring all original music – Obeah with Santi Debriano, Utatuba with Kimson Plaut and Lucky with Hans Teuber. As a performer he has been in great demand as a sideman in New York and on tour.
As an educator and clinician: Paul has taught master classes and workshops in many places including Argentina, Hawaii, Alaska and Ottawa. The Director of the Seattle Jazz Guitar Society, Micheal Biller, said:"The other side of Paul Meyers is as a teacher|clinician. Mr. Meyers has a unique ability to approach highly complex musical subjects and present each component in a practical yet multi-faceted way that allows participants to begin playing portions at tonight's gig, jam session or rehearsal…while perfecting the premise over a lifetime."
Paul teaches jazz guitar, improvisation and coaches jazz and Brazilian ensembles at William Patterson University (since 1988) and at New Jersey City University (since 1993), and he also taught at the first year of the Jazz for Teens program at NJPAC in Newark.
Full biography
Testimonies and Quotes
"…one of the most eloquent jazz guitarists since Kenny Burrell…"
–James Gavin, New York Times
"With his gleaming tone, assured rhythmic stance and rich sense of melody, PaulMeyers makes a very persuasive guitarist."
–Zan Stewart, The New Jersey Star-Ledger
"First of all, Paul Meyers is a brilliant musician, but most of all he has a broad
musical concept. He has such great sensitivity where you can feel the music
coming out of his guitar and not just hear the notes. I know this will continue to
serve him well, always."
–Andy Bey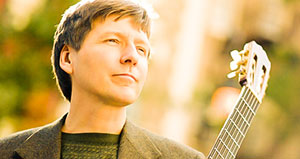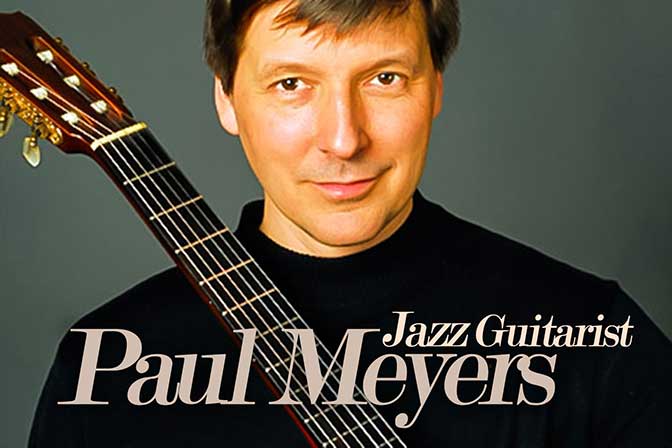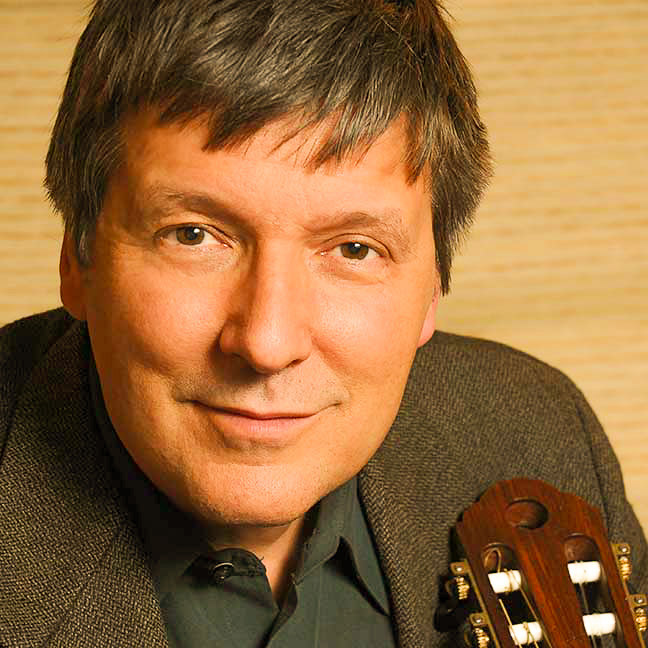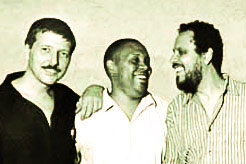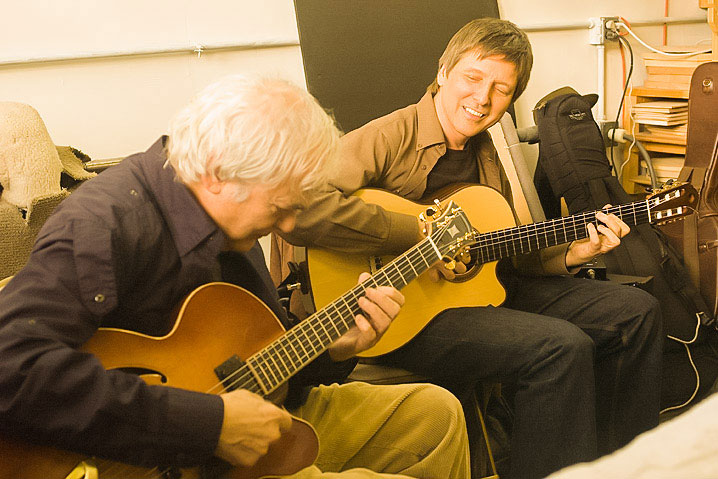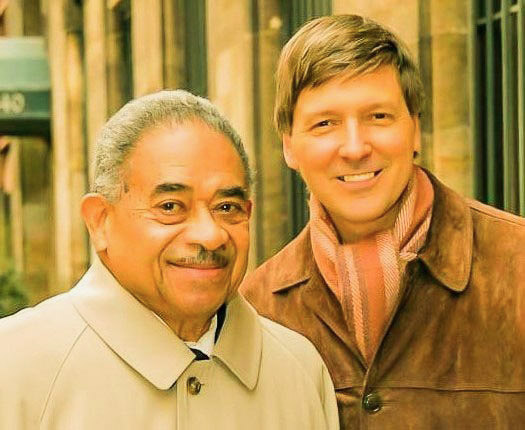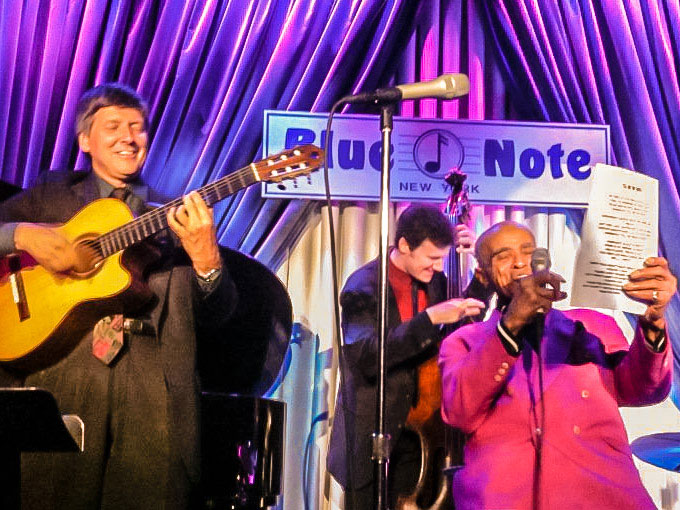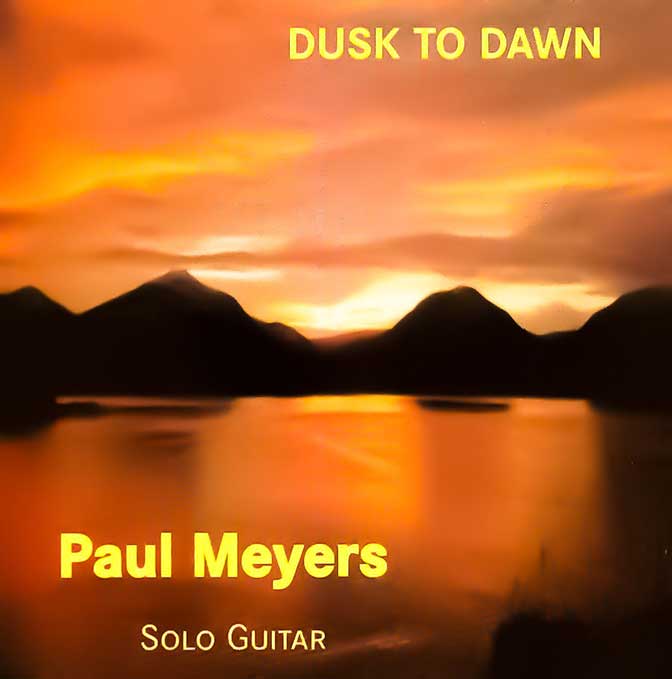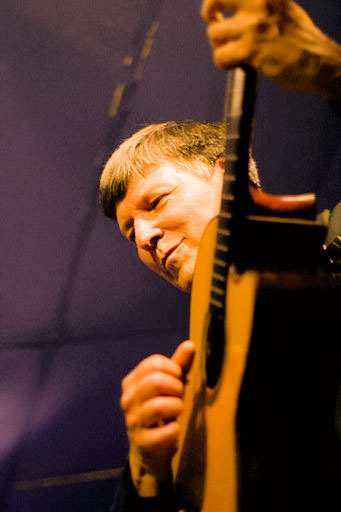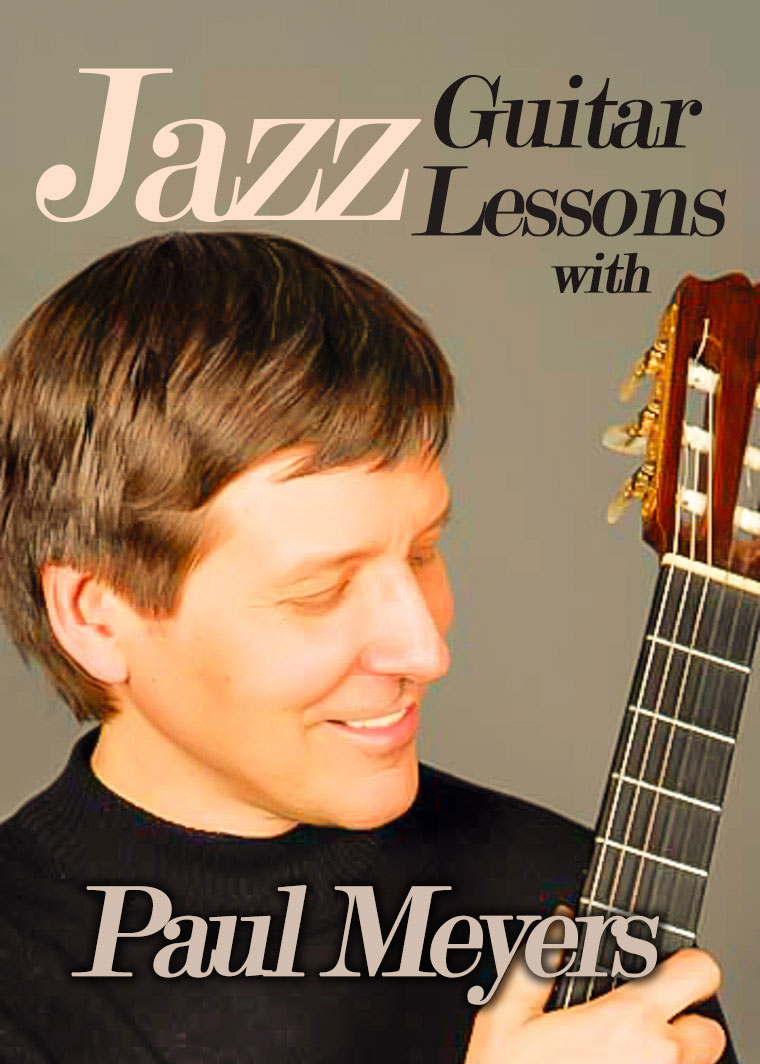 Related courses students viewed