Guitar Chords For Beginners: Learn How To Confidently Strum The Open Position Chords
Learn The Finger Positions, Chord Shapes and Strumming Techniques to Play and Change Through Chords Smoothly and Clearly.
Produced by Andrew Allan Morriss
Product Description
Play Beginner Guitar: Learn How to Strum Open Chords
Over my career as a guitar tutor I've successfully taught many beginners. Over time I've developed a method to effectively and quickly get my students playing and enjoying their instrument. The order I chose to teach the chords is specifically picked to increase speed and fluency in playing and to get you off the fastest possible start. It is what I deemed the best approach in learning this instrument.
What can this product offer me?
These lessons will give you the information you need to develop the skills required to begin playing the melody and songs that you want to perform.
They will also set up a wonderful foundation that can be built on if you'd like to simply learn more and progress even further.
I encourage fast results through solid technique and clear teaching and training, not shortcuts that prevent development later on.
I will share with you the pitfalls and common beginner mistakes for guitar players.
I'll point you in the right direction and guide you step by step.
I will show you what to do for each of the parts and also what not to do so you can avoid the traps and limitations that have slowed down the progress of many students in the past.
The exercises in this course are designed to be fun and easy and to reinforce new skills.
Each lesson builds on what you learn in the previous lesson ensuring that you'll remember what is taught before and keep growing and developing your new skills and abilities.
When you finish this course you will be able to fret notes, strum the chords in open position sweetly and with confidence that you're playing with a strong and sound technique.
Who is this for?
This program has been formed especially for beginners, so it is easy to follow and not difficult to understand.
If you've never played guitar before but have always wanted to, or if you've tried and found yourself unable to switch from chord to chord, this course is meant for you.
Step by step instruction gives you the information you need to develop into the guitarist you want to be and continue to make good music for years to come.
I've taught many, many beginner students of all ages and different walks of life how to successfully play the guitar. So all you need is your guitar, and a guitar pick and off we go.
Lecture list
Lecture series 1: The very beginning, parts of the guitar and tuning.

16:33
Lecture 1
1:33
Lets learn the names of the parts of the guitar and how to play in tune.
Lecture 2
4:25
Know the names of the parts of the guitar, discover the number and letter names of the strings and some easy ways to remember them. Learn the musical alphabet and how it repeats to form an octave.
Lecture 3
7:20
Learn about the different types of tuners and even how to get one for no cost. Find out how to tune your guitar string by string with the use of an electronic tuner so your notes and chords will sound sweetly. You'll learn which way to turn your tuners when your strings are sharp or flat.
Lecture 4
2:16
Being able to tune up without an electronic tuner is still an important skill, learn how to do it the old fashioned way here.
Lecture 5
0:56
A review of this lesson, numbers of the strings and fingers and why we need to tune.

Lecture series 2: Clearly playing your first notes and chords.

14:35
Lecture 6
1:24
Introducing you to correct finger position, the E minor chord and an essential strum technique.
Lecture 7
3:51
Learning where to place your fingers to get the best possible sound from each note across each of the 6 strings.
Lecture 8
5:13

Learn how to form up an E minor chord shape cleanly while avoiding common pitfalls, and how to strum smoothly using either your thumb or a pick.

Lecture 9
2:01
Learn how to play and count an essential strum pattern that will help in the smooth changes of your chords.
Lecture 10
2:03
A review of this lesson and tips and encouragement for your practice time.

Lecture series 3: Changing between chords smoothly to eliminate the gap.

13:26
Lecture 11
1:15
Look at two new chords, the A seven and the D major. Find out how they fit with the Em from the last lesson to create a chord progression that is designed to develop smooth gap free chord changes.
Lecture 12
4:52
Learn how to play the A seven chord cleanly and how to practice changing chords smoothly with a constant strumming technique.
Lecture 13
3:19
Learn how to form up and play the D major chord and start smooth changes to the A seven.
Lecture 14
2:08
Find out what a chord progression is and how to play it moving clearly through our three chords. See how the chord shapes are similar to each other for easy changes.
Lecture 15
1:49
A review of this lesson with tips on troubleshooting the chords, reducing the gap between changing chords, and what to practice.

Lecture series 4: Read a written down chord progression and strum with more definition.

9:16
Lecture 16
1:23
You'll be introduced to the essential musical terms "time signature" and "bars" as well as playing with an "accented" beat for more definition in your chord changes.
Lecture 17
2:37
Learn about time signatures and bars. Find out how to count and strum in sets of bars and how to read a written down chord progression and strum pattern.
Lecture 18
3:59
Read through and follow a chord progression and discover an accented strum that will make each bar stand out to create more definition and clarity in your playing. Learn how to count and play in both 4/4 and 3/4 time.
Lecture 19
1:15
A review of this lesson, 4/4 and 3/4 time, repeat signs and our new accented strum.

Lecture series 5: Linking new G and C chords with an Em to play a famous chord progression.

17:05
Lecture 20
1:34
Two new chords to learn, the G major and the C major. Find out how to form them up and link them to an Em so you'll be able to play a famous and often used chord progression.
Lecture 21
4:18
Play the G major chord and learn where it's similar in fingering to the Em. See how to change between the G and Em more efficiently with a simple finger technique.
Lecture 22
4:44
Learn another chord with a finger in common with the Em, the C major chord. See how to change between the C and Em quickly by pivoting around the 2nd finger.
Lecture 23
4:02
Learn a well used and loved progression that links your new chords together with the Em chord that will help develop your skills at changing through the chords smoothly and quickly.
Lecture 24
2:24
A review of this lesson, linking the G and C chords with the Em.

Lecture series 6: Similar shaped chords. E major and A minor.

13:04
Lecture 25
1:40
Two new chords, the Am and the E major and an easy change between them. A finger technique to change from E to D and a new chord progression to practice your new skills.
Lecture 26
2:49
Start forming up an A minor using a C chord as a template, and forming it up from scratch on it's own. Find out how to easily change between the C and the A minor by moving just one finger.
Lecture 27
3:13
Learn to form up the E major chord from the Am shape and find out how to change from Am to E by moving your fingers as a group.
Lecture 28
3:35
Play through a chord progression using your new E and Am chords with a new sliding technique to speed up changes from the E chord to the D chord.
Lecture 29
1:44
A review of this lesson, finger positions for quick changes between the E, Am and D chords as well as practice tips.

Lecture series 7: The A major chord and understanding the I, IV, V 12 bar blues progression.

16:55
Lecture 30
1:25
Learn an A major chord, a new strum pattern and the famous 12 bar blues progression. Discover how the 12 bar progression is created.
Lecture 31
4:05
See how to form up an A major chord two different ways. Learn to move your fingers in a group to make a smooth change into the E chord.
Lecture 32
2:52
Easy finger movements to help you develop your changes between the E, A and D chords. A new strum pattern to master to create a strong feel on the first beat and breathe life into your playing.
Lecture 33
2:14
Here's where you'll learn the iconic 22 bar blues progression, a progression that's been used in countless classic songs and jams. Play it through with the A, E and D chords.
Lecture 34
4:07
Discover how to transpose, or change a progression from one key to another. Learn how chords are numbered in music. Play through the 12 bar blues progression in the key of G.
Lecture 35
2:10
A review of this lesson, the three different A chords you've learnt, A major, A minor and A seven. A summary of the I, IV, V progression in both the keys you've learnt it in, and the different strum patterns you've learnt.

Lecture series 8: Second position chords, B minor and B major.

15:19
Lecture 36
1:09
Learn to form up the B minor and B major chords and how to play bars with two chords in them with a new strum pattern.
Lecture 37
2:54
Move onto the second position and increase your chord knowledge with the B minor chord, form up the shape and hear how well it sounds when you play it with the G chord. Learn to change from a first position chord to a second position chord.
Lecture 38
1:13
By keeping a diagonal finger shape it's a great way for you to change from a Bm to a C chord.
Lecture 39
3:29
Master a new strum that will allow you to change chords every two beats. Play through a new chord progression that changes chords twice in each bar.
Lecture 40
4:35
You're going to learn the B major chord, a movable shape that can be used to play different chords up and down the neck. With the B chord you can now master the 12 bar blues in another key, the key of E.
Lecture 41
1:56
A review of this lesson, two new B chords, B minor and B major. Moving your hand between 1st and 2nd position chords smoothly. Tips to get the chords to sound clearly. A recap of your new strum to change two chords in the bar.

Lecture series 9: The end of the beginning. D minor and F major.

17:45
Lecture 42
1:21
In this lesson you'll learn the D minor and F major chords. You'll have new chord progressions to play through to help learn how to change with your new chords and learn a partial bar technique.
Lecture 43
2:54
Learn the D minor chord position and how it differs from the D major. Change smoothly between the Dm and the C.
Lecture 44
2:22
A new chord progression to play through with different strum patterns to help to get used to changing with the Dm.
Lecture 45
6:55
Learn how to hold down more than one string with one finger with a partial bar technique. Form up the F major chord and see it's similarity to the C chord. Learn a rolling technique for changing between the F and the C.
Lecture 46
1:01
So you've got a new F chord, let's use it in this chord progression.
Lecture 47
01:28
The last progression for this series of lessons is the first chord progression that was played for the introduction lesson. Now it's your turn to play.
Lecture 48
01:40
A review of this lesson, the Dm, the partial bar and the F chord.
Instructor Biography

Andrew Allan Morriss
, Acoustic Guitarist, Record Label Owner, Music Producer & Educator
Andrew Allan Morriss is an acoustic singer/songwriter and guitar tutor from Christchurch New Zealand. With influences such as Fleetwood Mac's Lindsey Buckingham, and Dire Straits' Mark Knopfler, it isn't hard to see how Andrew's music has evolved to this point, with searching lyrics delivered with a rich warm voice and melodic lead guitar interwoven with acoustic fingerpicking. Andrew has a strong melodic style that incorporates the best of folk, pop, rock and blues and is interpreted and delivered in Andrew's uniquely pleasing style.
In 2003 Andrew released his debut CD "Just Believe" and created his own record label called Refractive Music. 2012 Andrew release a new CD "Border Town" followed by a live tour. His own record label called Refractive Music. Refractive Music Guitar Tuition which now has close to 60 private students.
Andrew was born on the 28th of February 1973 in the New Zealand farming town of Ashburton. Growing up on a cropping farm on the Canterbury plains, with a mother who taught piano and a brother who was a classically trained singer, there was always music around.
"I'm so grateful to have been brought up on the farm. I think that it's had a huge influence on the way I write music. The isolation, the freedom and the landscape are all things that are still a part of me."
Andrew played the flute through primary and intermediate school before finally giving in to the allure of the guitar at the age of fourteen. By the age of sixteen he had started songwriting with guitar and eventually also on piano.
Andrew moved to Nelson with his wife Nancy in 1997 to attend the Nelson School Of Music's Contemporary Music Performance Course which he graduated with Outstanding Merit. This provided opportunities such as performing around Nelson and Golden Bay with regular performances at the Victorian Rose, taking part in the School of Music's Winter Festival including singing in the choir for both the Nelson performances of ENZO as well as radio play on Nelson's Fresh FM.
"Doing music full time was what I've always wanted to do. I've had a burning inside me saying I have to do music for a long time. and the school of music gave me that opportunity to get things started."
In 2001 Andrew and Nancy returned to Canterbury to live in Christchurch. With his health slowly improving Andrew started working on music again. In 2003 Andrew released his debut CD "Just Believe" which attracted attention from an American record label, but after several months of discussion Andrew decided to go it alone and start his own record label called Refractive Music.
"Refractive Music gives me the freedom to make the music I want to make and sell it directly from itunes and my website. It brings together my recording, live work and guitar teaching all under one name."
Through out the 2000's, Andrew's music and teaching career has come along in leaps and bounds with regular live performances, producing and recording music for others, organizing concerts, growing his guitar teaching business called Refractive Music Guitar Tuition which now has close to 60 private students, and producing and recording his first video for the Abbey Road mastered single "Cowboys and Indians". 2012 has seen a new landmark with the release of Andrew's new CD "Border Town" and the subsequent live tour.
Full biography
Testimonies and Quotes
Andrew's tutoring has been a great experience for me. He passes on his understanding and skill in a clear concise manner. But most of all it has been fun and I can now confidently play the guitar.
-Paul O'Dea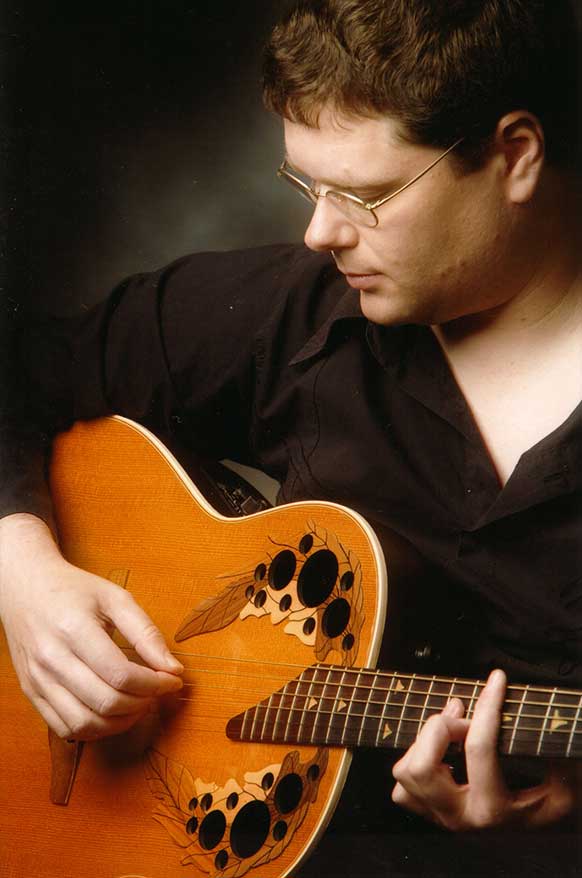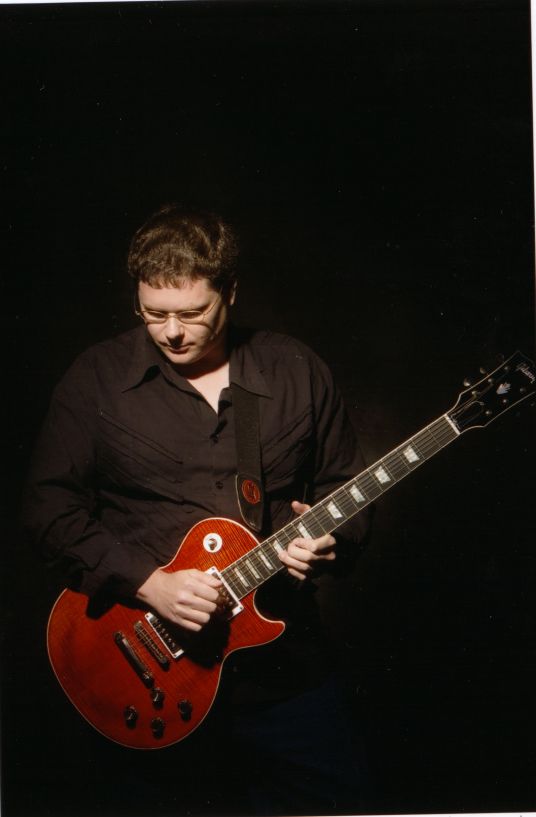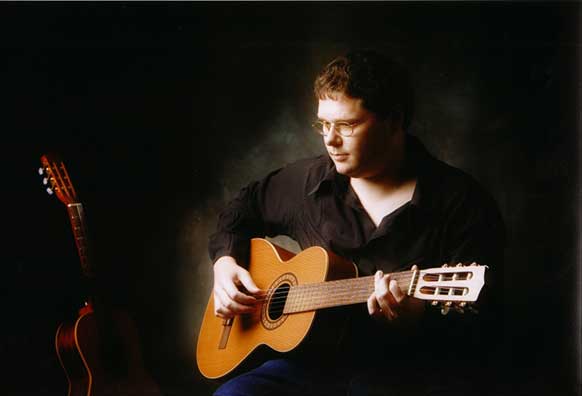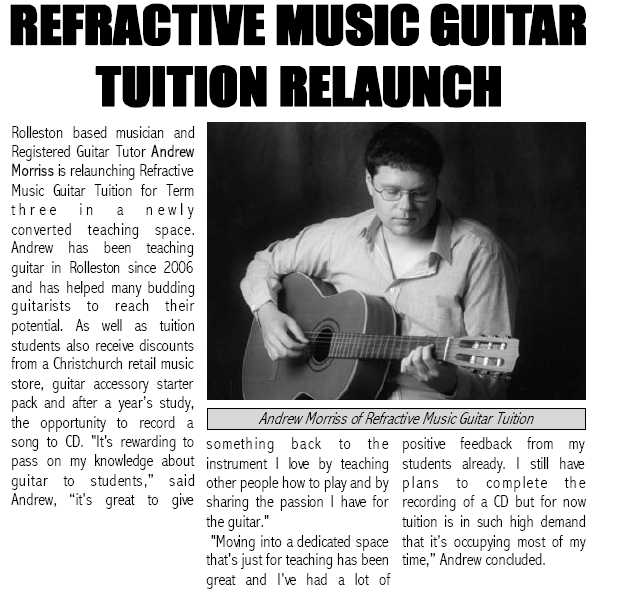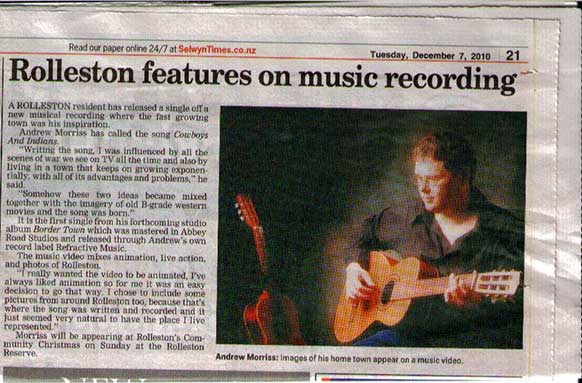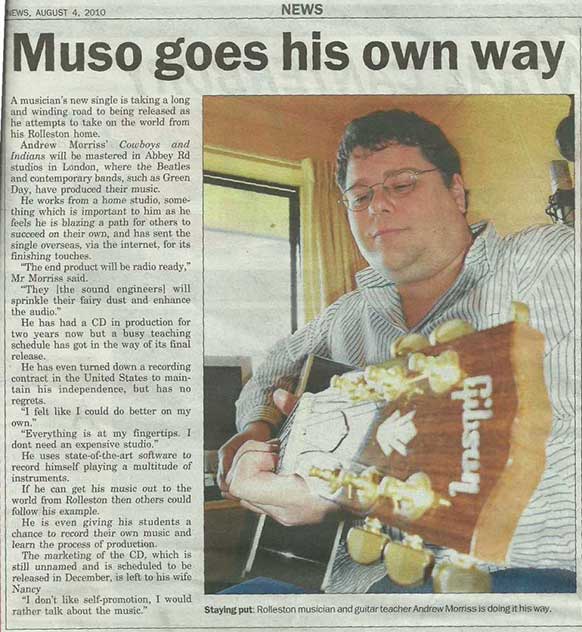 Related courses students viewed